Costa Rica is a spectacular destination known for its beaches, volcanoes and biodiversity. The wild forests of Costa Rica are full of incredible wildlife that includes spider monkeys, sloths and quetzal birds. Be sure to visit the Manuel Antonio National Park, the natural reserve of coastal tropical forest and La Fortuna, which has the Arenal Volcano San Carlos and the La Fortuna waterfall, the incredible hot springs of Tabacón are also nearby. Vacation Inspirations also recommends Monteverde and the famous Monteverde Cloud Forest Reserve, which houses incredible wildlife species, such as jaguars and ocelots. The La Paz Waterfall Gardens are another beautiful place to visit and in the capital of San Jose you can experience some world-class museums and nightlife. Contact the Vacation Inspirations member services department to plan and schedule a sensational vacation in Costa Rica for you and your family.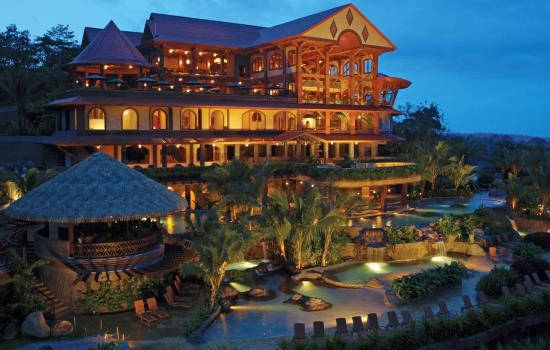 Large resort, activities center, hot springs
Costa Rica is a rising contender for the title of Best Family Holiday Destination. The intriguing wildlife and picturesque beaches are only 3 hours away from major hubs like Miami and Houston, with direct flights now offered from Newark, Chicago and more. Costa Rica is an accessible and exciting option for families who want a little bit of everything.
One of the reasons why families get in touch with Costa Rican experts to get help with their family vacations is because they are simply overwhelmed by all the options. To help reduce the options, our experts have selected your best options for the best family resorts in Costa Rica:
    Public holidays in Costa Rica
January 1st: New Year's Day
April 11th: Juan Santamaría Day
Good Thursday (Holy or Maundy Thursday, the day before Good Friday)
Good Friday (the Friday before Easter)
May 1st: Workers or Labor Day (May Day)
July 25th: Guanacaste Day
August 2nd: Virgin of Los Angeles Day
August 15th: Mother´s Day
September 15th: Independence Day
October 12th: National Cultures Day
December 25th: Christmas Day